Will the New High Tech Wave Theaters Change Surfing?
 "Arizona?!" -Corky Carroll from the movie "The North Shore" 1987
In that one-word response to a pro surfer from a wave tank in AZ, Corky captured it all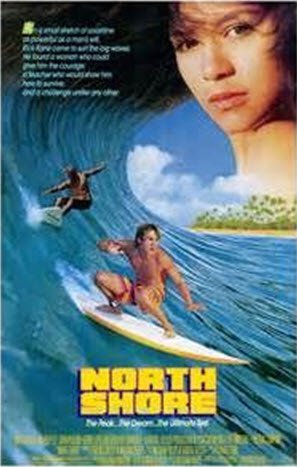 Kelly Slater Wave Co is working on opening his fully green, solar powered, programmable techno-wave ranch to the public ???? Soon. Somewhere in central CA.
"We appear to be watching the ocean.."- Rick Caine. 
Can the new high tech wave theaters compete with our oceans?
Will they change the face of surfing?
When I look at footage of the manmade NLand surf park in Austin Texas and Kelly Slater Wave Co's version of machined waves via YouTube. I gaze at the screen with my jaw gapped and mouthwatering over seemingly endless tasty waves.
The new spots seem like perfect fun but I can't help but notice how something is missing…
Lines from the movie "The North Shore" come barreling into my head. Here is why.
That epic slice of 80's cinema, and one liner heaven, is a statement from 1987 about exactly what I am looking at today. Surfing in a controlled synthetic environment and how that compares to surfing in the ocean.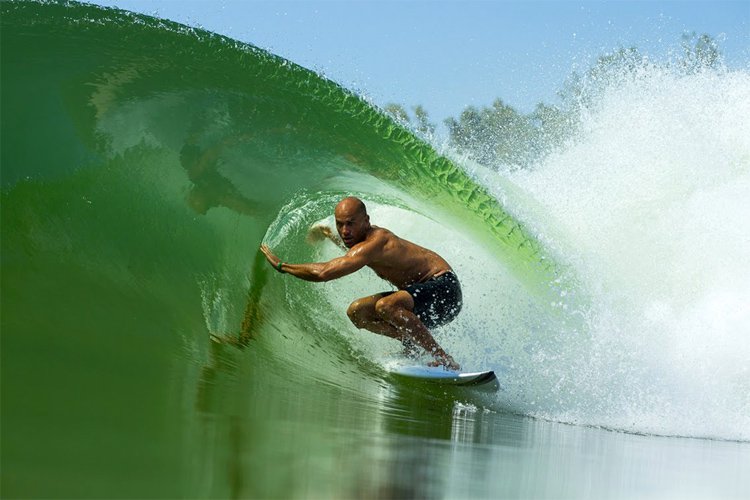 Tanks are a great way to bring surfing to spots that do not have surf
"The North Shore" movie is about a surfer from Arizona. Rick wins the Arizona state surf championship at his local wave tank. Instead of buying tacos with his winnings and staying home, Rick slides that wad to his travel agent, and follows his dream of surfing the big waves of the North Shore of Hawaii. Right there, that, should tell you something.
-The wave park champ can't wait to get out of the wave park and actually surf the breaks of his dreams.
OK that was 1987′ and Rick's wave park was literally a pool. It represents the antiquated idea of a wave tank.
Modern wave pool technology
Flash forward to today. The combination of research, engineering and technology have allowed for dramatic change in the performance of wave pool capabilities.
NLand is in Texas, which I know is different than Arizona, but I think we can all agree that ya don't think of surfers or surf spots when I mention Arizona or Texas. Cowboys and deserts yes, Surfers? No.
Austin is a great spot for a wave tank competition if you have the whole thing to yourself.
However, because you are in a smaller space the waves seem a little crowded.
In order to keep secondary back wash and inner pool turbulence to a minimum the wave generation has to be somewhat infrequent. So not a lot of waves, looks like 10-12 waves per hour in choppy conditions.
The session ends and everyone is asked to leave the water.
Problem with the wave pool idea especially for beginners is the limited time you get to spend in the water. Compared to the time you get to spend in the ocean it isn't even close. When your session is over at the surf park, it's over.
For beginners the new parks can help you learn what it might be like to surf and give you a fundamental foundation for getting up and riding your first waves. You catch it. You ride it. That's surfing right?  You can work on skills and rest assured there will be waves. Seems safe and fun but short lived.
The waves look awesome for intermediate to advanced surf enthusiasts that have a dream to one day go to a manmade break and pay per hour to ride.
I could see Olympic surfing truly happen now which would be great for surfing.
"I think when a surfer becomes a surfer, it's almost like an obligation to be an environmentalist at the same time." – Kelly Slater
Best wave pool option out there
Kelly Slater Wave Co did the right thing! Kelly has gone all green energy and fully programmable. Dial up any wave from anywhere in the world and his machine will produce unreal epic replications of waves. The waves are long and shreddable.
He is using only solar energy.
For perfect conditions, the glassy conditions you dream of, his smaller pool can generate and handle 4 "perfect" waves per hour.
Great for more tank contests and promoting green energy, awesome!
 "Eskimos have several hundred words for snow. Well, Hawaiians have just as many words to describe waves and ocean conditions." -Chandler
The wave pool has two words to describe its conditions: on and off
For an advanced surfer with dreams of a certain break like pipeline or somewhere in Costa Rica a wave pool like Slaters Wave Co is totally programmable. It can provide a simulated experience and is a great way to have a guaranteed perfect wave.  You can practice what it could be like to actually be there.
Only problem with that for our bucket listers is you can't say that you have surfed a break unless you have been there and surfed it.
You can't dial up a wave and tell everyone at home you just surfed the pier in Huntington Beach a.k.a. Surf City USA like they do at the US Open event that is held there every year.
All the visceral knowledge of and about ocean conditions or why we should care for our oceans is lost in a wave tank. Anyway way you look at it, there is no ocean at a wave tank. Once you leave you may not find yourself surrounded by a richly rooted surf community based in surfing heritage and spirit.
"The biggest sin in the world would be if I lost my love for the ocean." – Laird Hamilton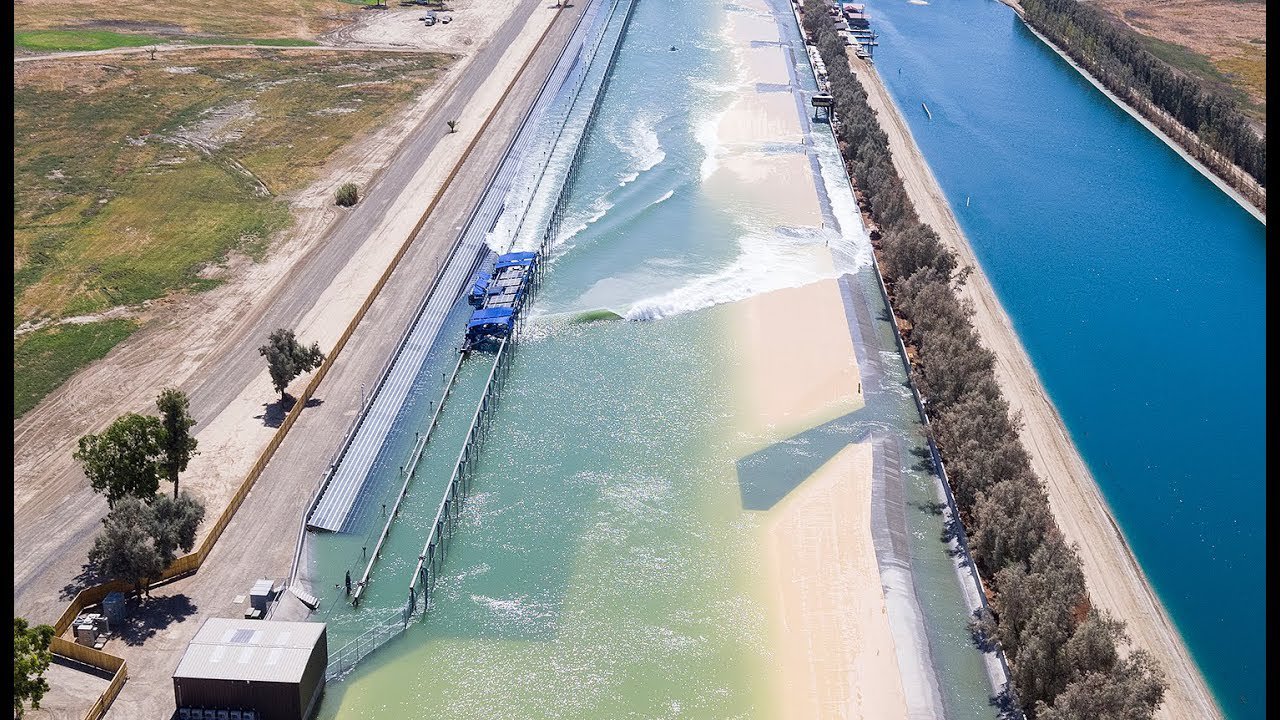 What are your roots?
Corky Carrolls surf schools are rooted into two epic surf spots and are submerged in surf culture: Bolsa Chica State Beach, Huntington Beach, CA and Playa Guiones, Nosara, Costa Rica
Huntington Beach
Huntington Beach Pier
Dukes
Jack's Surfboards

Why did the original pioneer of professional surfing Corky Carroll put his surf school at Bolsa Chica?
Just like in gardening, for surfing, where you plant your surfing roots is important for you and your sprouting grommets. In gardening the seed sprouts roots into the Earth to connect with it for nutrition. In surfing our dreams are the seeds that we connect with our lives. We are planting our surfing roots and connecting our dreams into our life. Surfing becomes the root source of living a dream. We truly grow because of it.
The overall connective experience that people are looking for when beginning their surfing adventures and planting their surfing roots can only be found by being submerged in the oceans and the surrounding communities. You are planting your surfing roots and your life grows because of it physically, mentally, spiritually.
You remember your first wave. You remember the people you meet. It all becomes a part of you and your personal surfing journey.
Bolsa Chica translates to "Little Pockets." I like to say Little Pockets runs deep in surfing roots, heritage, and history.
Bolsa Chica State beach has a sweetness to it.  Perfect for beginners, campers, families and journeymen alike.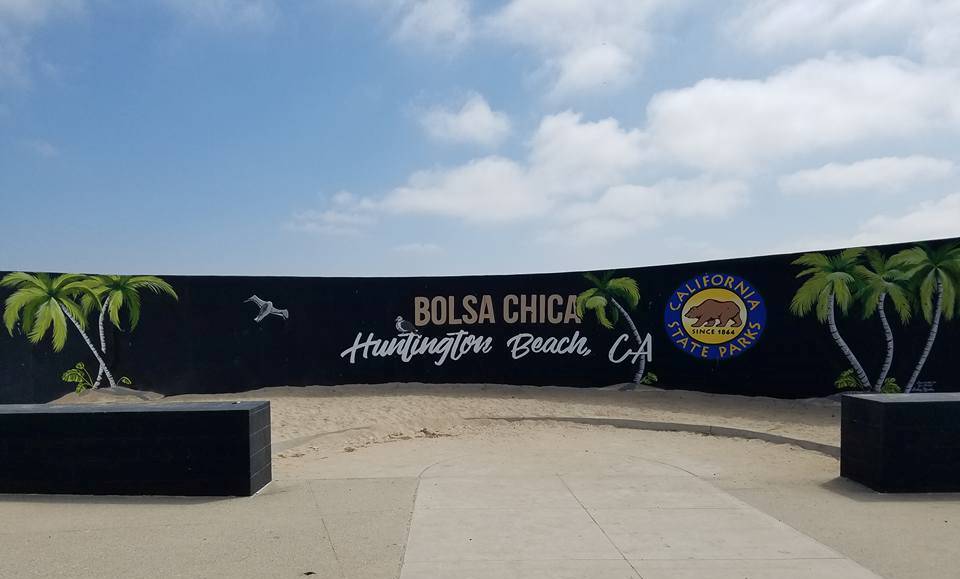 *It's protected, smooth, flat beaches are the beneficiary of California weather. It doesn't suffer from lack of waves being consistent with swell from any direction.
*Talk about legendary surf roots and community: Not only was Corky Carroll the first professional surfer, Corky helped pioneer another surf staple. Just up the road is Kasnvas By Katin where he helped with the designs for the original pair of board shorts.
*When your lesson for the day is over at the beach. The ocean is still open. The ocean doesn't black ball you after your hour is up.
Bolsa Chica has less black ball issue hours than most breaks local to Huntington Beach
Encounters with the local dolphins happen almost daily at Bolsa Chica and other surrounding breaks. In Costa Rica Howler Monkeys and animals of all kinds are always around.
Connecting with Mother Nature and connecting with animals in a shared environment does something to our perspective. It can be life changing, and life enhancing.
Something resonates with the soul when you are surrounded by Mother Nature's vast epi-scapes like "the Cliffs"@ Huntington Beach, the wetlands @ Bolsa Chica State Beach, or the sugary beaches of Costa Rica. The soul connection to the ocean's power and beauty cannot be found in a manmade pool. A wave pool just can't beat the life enhancing challenges and bond building experiences that the ocean can present. Our oceans are priceless.
When a surfer talks about choosing his line, he is talking about something unique that is within each wave and each person. Surfing in the ocean is another way to tap into your overall sensory awareness, learn something about yourself, and express it creatively.
I love pools but they are not alive like the ocean
Ricks roots did not change because he went to surf in Hawaii. He struggled to take his surfing into the ocean. His surfing roots were still in Arizona. Then he connected more dream roots when he combined his dreams with his reality. He was the champion of a park and his ultimate dream was to surf for real. That should tell you something about the difference between manmade wave parks and the real natural deal. That will not change, I still think Corky said it best -"Arizona?!"
Looking at the new wave theaters I can't help but notice how something is missing.
So where do you go to practice and learn how to surf?
The path you choose is up to you.
https://www.surfschool.net/wp-content/uploads/2017/01/wavepool.jpg
484
960
Corky Carroll's Surf School
https://www.surfschool.net/wp-content/uploads/2019/07/corky-carrolls-surf-school-logo-header.jpg
Corky Carroll's Surf School
2017-01-05 12:58:12
2018-03-08 17:32:26
Wave Pool vs Real Ocean Surfing