Soft top surfboards are a great board to have in any surfer's quiver. In fact, we'll go so far as to say every surfer should have one. Say what you will about them, but soft top surfboards are one thing above all else: FUN!
After all isn't that why we all started surfing in the first place?
Everyone uses soft top surfboards from world champions to the first time surfer. Jamie O'Brien shredded Pipeline on a soft top. Then he did it again at Jaws with Kalani Chapman. Mick Fanning has his own line of softboards. Big wave ripper Shawn Dollar founded the soft-top-only Wavestorm World Championships. And surf schools from Maui to Bali, J-Bay, Bells, Nosara, and Huntington Beach all use foamies as their go-to teaching boards.
To help find the perfect soft top surfboard for you, we're going to breakdown which ones are best for which levels of surfing and wave types below. But first let's get to know these foam topped sticks a little better.
What Exactly is a Soft Top Surfboard?
A soft top surfboard is just as it's name describes — a surfboard with a soft deck top. Traditional surfboards are made with either a polyurethane (PU) or expanded polystyrene (EMS) foam, then covered with a polyester or epoxy resin that creates a hardened surface around the board. Hence, hard top surfboards.
Learn More About the Difference Between Poly and Epoxy Surfboards
Soft top surfboards are made with an EPS foam core (like epoxy surfboards) wrapped in either fiberglass or a synthetic wrap. The big difference is that they replace that hardened fiberglass or epoxy top layer with a soft, dentable Ethylene-Vinyl Acetate (EVA) sheet. Think exercise mats, the insoles of your sneakers, yoga blocks, and kick boards — they're all made of the same material as a soft top surfboard.
The EVA top layer combined with the compressed EPS core make soft top surfboards lighter, float better, less susceptible to rot, and harder to ding than traditional hard top surfboards. The soft deck top also allows for a easier and more comfortable paddle. And unlike resined, hard top surfboards, soft tops don't require wax or any additional material to prevent slippage.
Despite their most often being associated as longboards, soft tops come in a variety of shapes and sizes. For example, Mick Fanning's Little Marley goes as small as a 29L 5'2″. But no matter how big or small they are, all soft tops are characterized as being more buoyant, lightweight, and stable than most fiberglass or epoxy surfboard of the same size.
We're not saying soft tops are better than hard tops, but they certainly give classic surfboards a run for their money. Literally. Because they also often come with a much smaller price tag. Thanks in no small part to the king of discounted prices — Costco.
A Brief History of Soft Top Surfboards
Soft top surfboards were born from boogie boards. Reminiscent of inflatable surf mats and planked belly boards of old, the Boogie Board was invented by Tom Morey out of Hawaii in 1971. Morey, a mathematician and surfing inventor, used polyethylene foam to model (using a hot iron!) a square-tailed, round-nosed roughly 4 foot soft board that people could catch waves on while lying prone. He named his squishy topped squat board the Boogie Board (after the the Boogie-Woogie blues music he enjoyed listening to: "Boogie swung, and it had a wiggle and a jiggle to it. It was perfect.").
During the 80s and 90s Boogie Boards took took off. These surf-riding sponges quickly became a beach staple, spawning sponsored bodyboarding teams and its own competitive contest, and becoming the new go-to wave riding brand of young beachgoers everywhere.
Surfers however were not as stoked. From the growing popularity of Boogie Boards erupted a huge bodyboarding scene. As a result, the new fad was overcrowding the waters and reignited the debate over what exactly constitutes surfing. But the bodyboarding industry ignored all that (because money) and new advancements in technology and materials soon brought the two water activities together.
In 2006, a former manager of the Boogie Board brand — Matt Zilinskas — teamed up with AGIT Global to create the "first standup experience" for surfers on a Boogie-esque board. At the time AGIT Global was the manufacturer for Boogie Boards. Zilinskas worked with John Yeh – a Taiwanese businessman and CEO of AGIT's North America division — to develop an entirely new product applying the sandwiched bodyboard design of expanded polystyrene foam and plastic into a a full sized surfboard. They called their soft topped creation Wavestorm.
Safer and more buoyant than traditional surfboards, Wavestorm hit the market as the ultimate beginner board. And thanks to being easier and cheaper to produce the Wavestorm allowed AGIT to manufacture a high-volume priced a third of what most beginner surfboards cost. Costco, always looking for a good deal, took notice and began disturbing them in their coastal warehouses. And where Costco goes, shoppers follow. According to Bloomberg Business, by 2015 over half a million Wavestorms had been sold.
As Wavestorms ask the "Costco Surfboard" took over new players entered the soft top scene like Catch Surf, Softech, MF Softboards, the list goes on. AGIT even produces other brands including our preferred soft top for teaching surf lessons — Storm Blade. (But more on those in a moment.)
There was a time when surfers were against riding anything but massive, wooden 30 pound longboards. When wetsuits came out, many scoffed at using them. Early versions of the now-iconic Malibu Chip were chastised as "girl boards" until the guys started riding them, and fell in love. The first short boards were deemed ridiculous and a passing trend. In fact, with each new major evolution of the sport you could count on one thing — hardcore surfers balking. Then they would try it for themselves, realize how fun the new fad made surfing, and adapt it as their own.
The latest in this long line of "disruptive" surfing innovations is the soft top surfboard. Which had at first threatened to destroy all that is sacred about surfing, and now is spreading joy to both newbies and old hats alike.
A Guide to Soft Top Surfboards for Every Level of Surfing
Now that we know the who, what, and where of why soft top surfboards are so great, let's take a look at which one is for you. In the following guide we'll go over the best soft top surfboards, discussing which you should ride depending on your experience and the conditions.
We have used soft tops at our surf school for years and compared them all. We've also talked to many pro and amateur surfers to see what they prefer and tried out every high performance soft top in the surfing industry. So not only are we huge advocates of riding soft top surfboards, we love riding them ourselves.
Best Soft Top Surfboard for Beginners
We all want to have fun right? When learning how to surf you want to have a surfboard with a lot of foam. This will help you paddle easier and will let you catch a ton of waves compared to a smaller soft top surfboard. We recommend an 8ft-9ft soft top surfboard with as much width and thickness as possible.
Our favorite for learning how to surf and beginners is the 9ft Stormblade SSR soft top surfboard.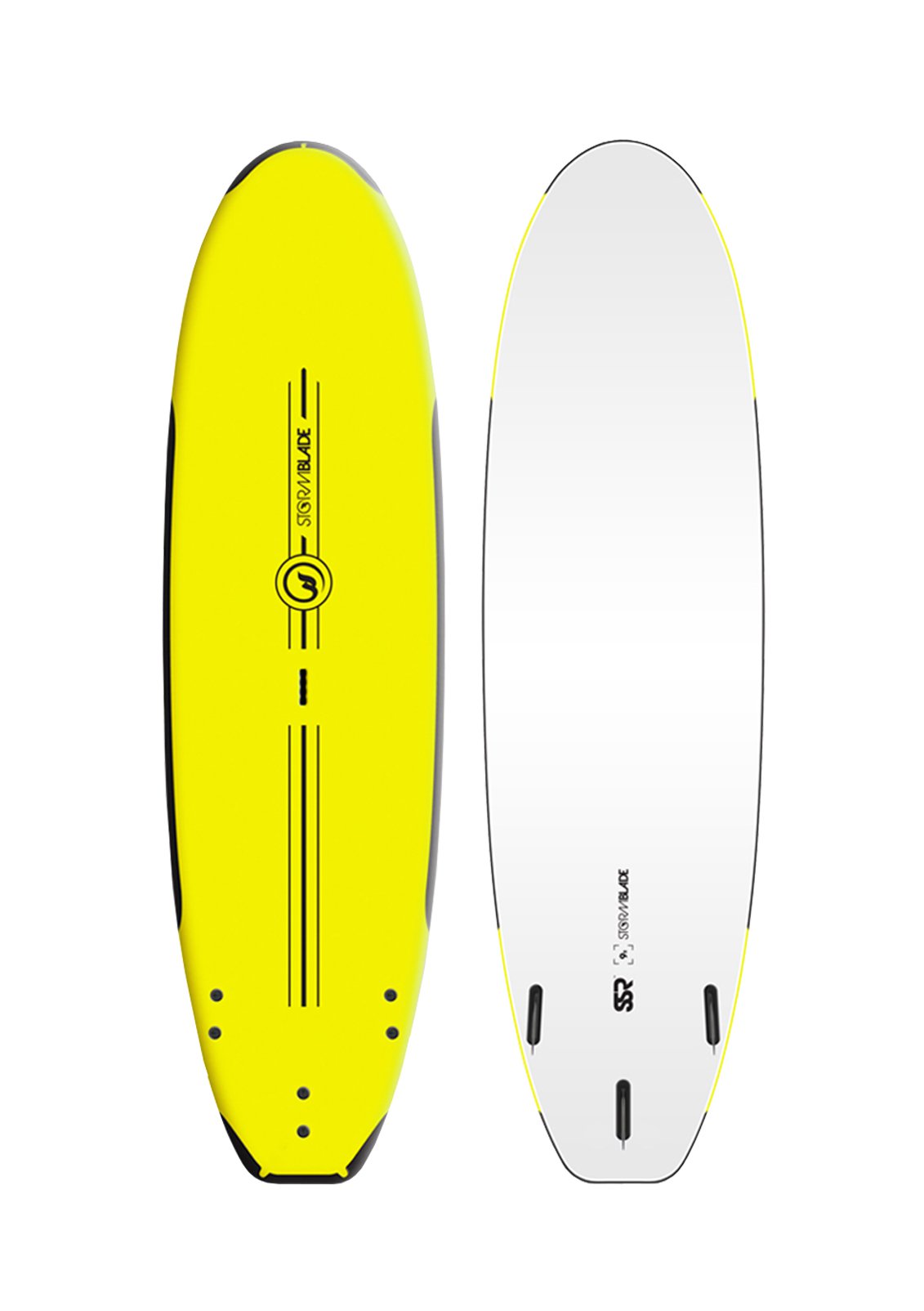 The SSR is perfect for learning how to surf on any type of waves. With the added foam it is very buoyant and easy to learn on. Guaranteed, on a Storm Blade soft top will be standing up in no time. That's why we us it exclusively to teach new surfers.
It's not just us though. Soft top foam surfboards are widely used in surf schools across the world, in particular the Storm Blade SSR. That's because they are specifically shaped to have lots of volume and stability so you can catch lots of  waves and remain more stable when trying to stand up. They are also durable as heck, and can withstand even the harshest of beatings. And perhaps most importantly, their extra soft deck reduces the risk of accidents and injuries.
Best Soft Top Surfboards for Intermediate and Advanced Surfers
Beginners aren't the only ones getting stoked on soft tops. Nowadays you can find any style soft top for all conditions and skill levels. For your small wave days there's the perfect summer surf longboards that any surfer can ride, like the Storm Blades. For your medium size days there are what we call "fun shape" soft tops which are more high performance than your longboard, can make steep drops and do radical turns. Finally there are soft tops that are like high performance short boards in which you can get barreled and throw airs on.
Here is our favorite soft top surfboards for intermediate and advanced surfers:
Takayama Scorpion

The Takayama Scorpion Soft Top Surfboard is one of our favorite soft tops in the surf industry right now. They ride really well in small surf but are also awesome at handling bigger surf.  The round tail helps with different wave heights but still remains loose enough to be able to throw down turns. The thermal formed EVA soft top deck allows you to grip the board comfortably but still be able to let loose in more high performance waves.
Catch Surf Odysea
Catch Surf is one of the leading soft top companies in the world right now. They have every kind of high performance soft top you can imagine. With the short board fun factor they create soft tops that will let you surf the way you want. They are super responsive in massive shore break and super cruisey on small longboard waves. You know when we mentioned earlier Jamie O'Brien conquered Pipeline on a soft top surfboard? He did it on a Catch Surf Odysea.
The quad-fin Odysea Skipper is one of the most enjoyable soft tops to shred on. They range in size from 5'6″ to 6'6″, and have a classic fish shape that allows for down-the-line-speed and stylish turns.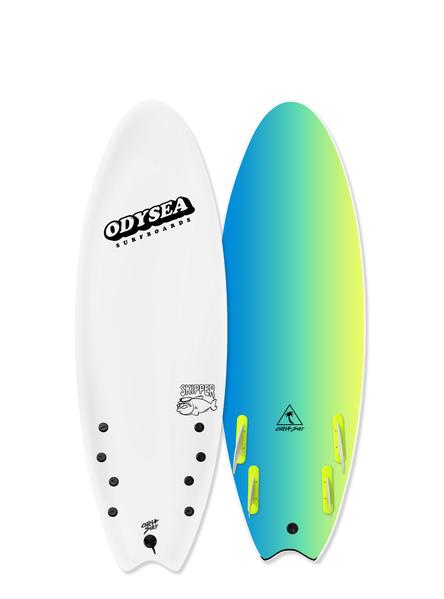 Another rad Catch Surf model is the Lost Round-Nose Fish (RNF). It is designed after what is cited as the world's best-selling fish model of all-time from shaper Matt "Mayhem" Biolos. Thanks to its winged swallow tail and tai-fin thruster setup is can rip it in everything from knee-high runners to heavy shore-break, allowing for rail-to-rail surfing and easy paddling.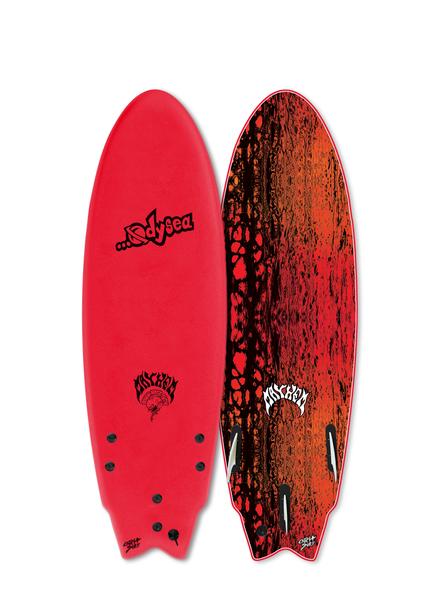 INT 7'0 Funboard
INT Surfboards have been one of the new up and coming companies to master the soft top industry. Their 7′ classic funboard makes our list because it paddles like a longboard but performs like a shortboard. It gives you enough to room to paddle around the line up with ease, has pop-up stability, and is responsiveness enough to execute tighter turns or make it down steeper waves.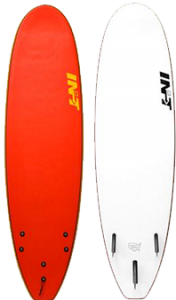 Mick Fanning Little Marley
The last soft top surfboard on our list is from your very own world champions Mick Fanning. With MF Softboards, he has created his own model of soft tops that represent all the best of his surfing.
When it comes to soft top shortboards the MF Little Marley is rules the waves.
If you didn't feel the foam on your feet you would swear you were riding a real fiberglass board. The Little Marley is for all around fun but does best in more high-performance situations. Its short, wide, and fast which make it one of the more versatile soft tops in the surf industry.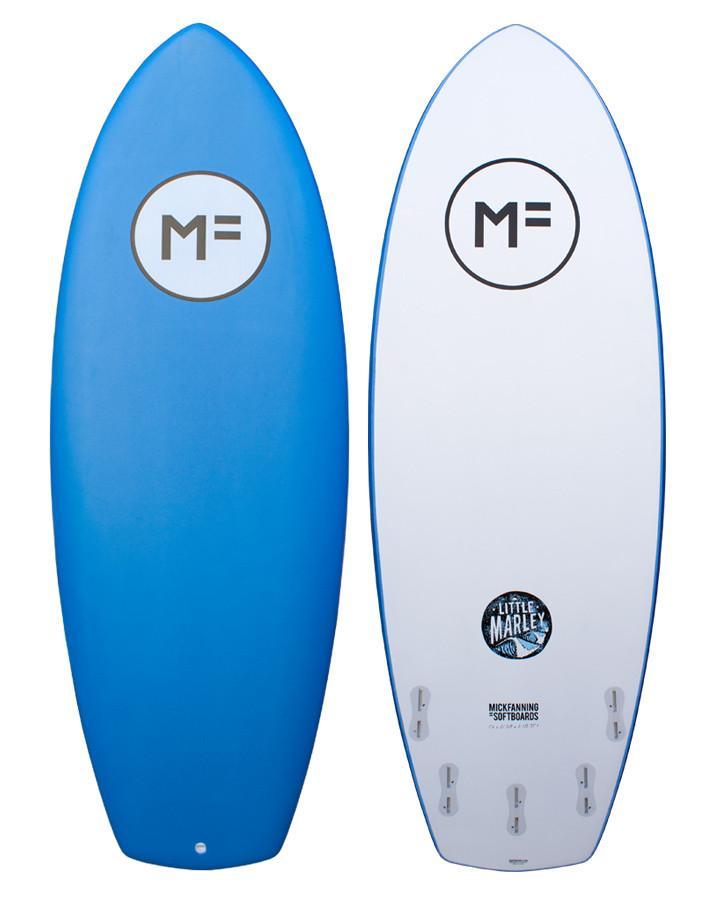 Shred Hard, Stay Soft
Whether you are just learning how to surf on small waves or a legendary surfer shredding towering breaks, you will have fun on soft top surfboard. Every day they grow more popular and their designs getting better and better everyday. The latest soft top technology is set to pump foamies to the top of the surfing industry for years to come. Everyone should have at least one soft top in their quiver of surfboards and if not then you are late to the game.
Back in the day soft tops use to be frowned upon. Not just because they were seen as being for "kooks" and "noobs" but because they weren't made to ride the way most experienced surfers would want. They were always falling apart and never had the performance level you were hoping for. 
But times have changed. New designs and innovations have made them just as sweet as regular hard top boards to ride. Now soft top surfboards are so popular pro surfers are coming out with their own high performance soft top companies. The foam logs have opened up the sport in ways never seen before, making it more accessible, friendly and fun. And with the growth of wave pools on the horizon you can be rest assured the soft top industry will only grow bigger.
Whether you are just learning to surf or a seasoned pro, you are seriously missing out if you aren't experiencing soft top stoke.
So if you're asking yourself should I try surfing on a soft top surfboard? The answer is a definitive YEEWWW!
https://www.surfschool.net/wp-content/uploads/2019/02/soft-top-surfboards-surfing-lesson.jpg
583
1000
Hunter Rose
https://www.surfschool.net/wp-content/uploads/2019/07/corky-carrolls-surf-school-logo-header.jpg
Hunter Rose
2019-02-20 16:29:26
2022-06-08 17:14:03
Soft Top Surfboards: Why Every Surfer Needs One