What Airport to fly into when going to Costa Rica?
When choosing which airport to fly to in Costa Rica, there are a few things you should consider. First and foremost, think about where you want to visit and spend most of your time. If you are planning on creating an itinerary and sticking to it, you'll need to simply see which airport meets your geographic needs.
Here is the two main airports and the difference between locations.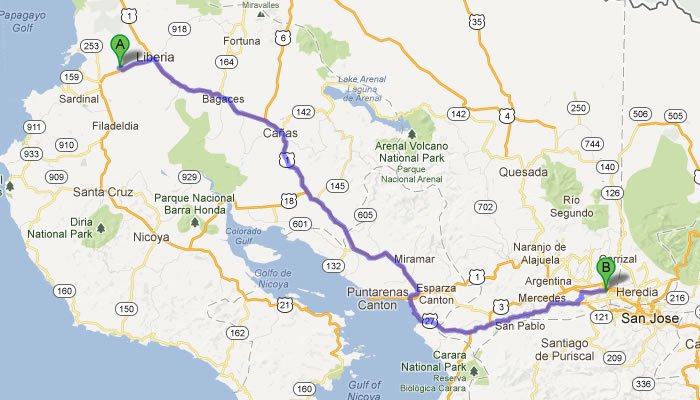 Airport to Airport
Liberia International Airport
  Liberia International Airport is the second main International airport in Costa Rica. It is located in the Guanacaste Province right next to Liberia City. Over the past 10 years Guanacaste (Northern Costa Rica on the Pacific Ocean Side) has grown into the main tourist attraction for visitors visiting Costa Ricans beautiful Pacific Ocean. The airport has gone through major construction in 2012 and again in 2018 to provide easier and more advance technology that better suits the traveling population. The Liberia International Airport is about an hour driving distance to some of the most popular beaches. If you are into all-inclusive -or not all inclusive-, beach resorts, big franchised hotels and just lying on the beach while simply relaxing Liberia is for you.This (Liberia International airport) is the way to go if you are looking for fun in the sun on the Pacific Ocean, the Guanacaste mountain corridor and or the Nicoya Peninsula. 
San Jose International Airport
San Jose International Airport is right by San Jose, the capital city of Costa Rica. This is where most of the country's population lives and works so the traffic is terrible . It is a lot more hectic and stressful to drive in San Jose than Liberia. If you are looking at your budget the San Jose Airport is cheaper by $200 on average, but I would look where you are traveling. I recommend using San Jose International Airport if your trip is going to take you to La Fortuna (Arenal Volcano), Manuel Antonio, Tortuguero or Puerto Viejo as well as any destination on the Osa Peninsula. If you are into nature, adventures, the luscious green rainforests, wildlife sightings, beaches and Costa Rican culture, Sjo is for you.(SJO is better if your using the southern half of Costa Rica) west side of "pacific Ocean"
If you are traveling to Norsara, Costa Rica I would recommend flying into Liberia International Airport. The distance from Liberia to Norsara is around 2.5 hours and San Jose to Norsara is around 4-5 hours. If you have a family and are trying to save money I would pick San Jose since it is cheaper. Time is money and money is time, so if you don't care about spending a little more cash to catch a couple more waves, Liberia is the way to go.
There are some pros and cons to flying to SJO and LIR Airport however.
Liberia is in Guanacaste and it is super easy to drive there as there aren't nearly as many people and the roads are well paved.
SJO Airport may be cheaper than LIR since Liberia is a much smaller airport so I would check for both airports first. When I visit my home in WA state, prices were around $200 more expensive to Liberia Airport to Seattle. Sometimes they still are depending on the time of year but luckily, more flights are opening up to LIR!
If you are planning to visit Guanacaste but flights are cheaper to SJO Airport, know that you will need to take either a 5-6 hour bus ride or drive around 4 hours to get from San Jose to Liberia. It may be worth spending that extra $100-200 to save time. There are buses from San Jose to Liberia every hour from 6 AM to 8 PM.
As for hotels, there aren't many hotel options by Liberia Airport. There is only one, the Hilton, that has a free shuttle and is only a two minute drive away. The rest of the hotels are smaller and further away so you will have to pay for a shuttle or taxi.
Should I Fly Into San Jose or Liberia Airport?
If you're going to Guanacaste (destinations like Conchal, Flamingo, Tamarindo, Avellanas, Grande, Coco, Hermosa, Ocotal, Riu, Four Seasons, Westin) then LIR Airport is the one you want to fly into as it is the closest.

Going  to Manuel Antonio, Jaco, Puerto Viejo, San Jose, Dominical, Uvita? Fly into SJO Airport as that is closest.

If you're going to La Fortuna or Monteverde, then you can fly to either airport because the driving time is the same for both airports, around 3 hours.
https://www.surfschool.net/wp-content/uploads/2018/09/lib3.jpg
768
1900
hunter420
https://www.surfschool.net/wp-content/uploads/2018/03/corky-carrolls-surf-school-logo-300x156.png
hunter420
2018-09-18 12:19:18
2018-10-02 09:27:17
Traveling to Costa Rica: Liberia or San Jose Airport