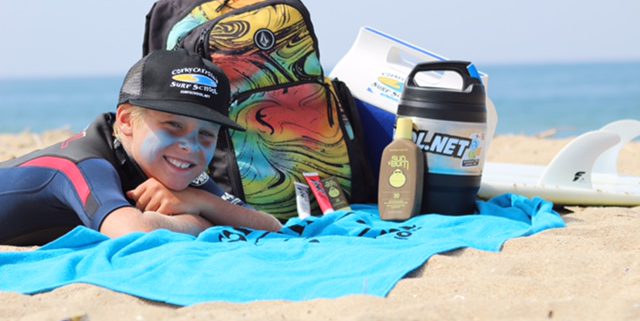 The essential packing list to bring for a day at Corky Carroll's Surf Camp.
 What to pack! Thinking about going to surf camp or beach adventure this summer? Here at Corky Carroll's Surf School we are pros at making a day out of going to the beach it's almost like we live here. Enjoying a day of beach and ocean activities is generally the best place to spend a day off or an entire week at our Corky Carroll's Surf Camp. From sunscreen to towels, you're going to want to make sure you have all the necessities to get the most out of your camp experience! While enjoying a beach day at camp may seem pretty self explanatory, we have outlined some tips to ensure you maximize your fun! Here's a quick beach packing list with all the essentials to help you pack quickly so you can get out the door and on your way! Go to our Huntington Beach Surf Camp page to join now! https://www.surfschool.net/huntington-beach-surf-camp
Beach Bag: First thing you need is a beach bag that you can fit all your items in. You don't want to be carrying an arms-full of items when walking across the hot summer sand. Get yourself a spacious bag that has enough room to fit bulky items such as a towel, swimsuit, and extra pair of clothes.  We recommend that your bag has a zipper or something to cover up it up while you're enjoying your beach activities so that the seagulls don't get into your stuff.
Sunscreen: One of the most important things to take with you for a day in the sun. Even on a day where the weather looks overcast, you're likely to get burnt as beaches tend to be very exposed to the elements. We recommend bringing a waterproof sunscreen with you but we do provide sunscreen if necessary. We choose Eco and skin friendly sunscreen such as Sun Bum and Zinka!
Lots of water: Don't forget to bring along plenty of H2O. When surfing in the sun all day, even more water intake is required than on a regular day. It's very important that you keep yourself hydrated whilst enjoying your beach day to avoid sunstroke and other related illnesses; with increased sweating in the sun, we tend to lose a lot of fluids, so make sure you drink moderate amounts of water often to avoid getting thirsty and therefore dehydrated. You can bring plastic water bottles but we recommend you bring a reusable water bottle from home so we can reduce our use of plastic. https://www.surfschool.net/blog/bolsa-chica-state-beach/
Swimwear: We recommend that you get your swimsuit on before you come to Corky Carroll's Surf Camp so when you show up you can get in the water as soon as possible! We provide wet suits for all of our campers to wear, which we do recommend wearing while surfing, but it is not mandatory. If you know you are not going to want to a wet suit, you should wear a swimsuit that is sturdy enough not to fall off while surfing waves and swimming in the ocean. Most of our kids stay in the wet suits for the day but you are more than welcome to take it off during our out of water activities.
Snacks: Nothing increases your appetite quite like a day of running in the sand, hanging in the sun and wave surfing. Make sure that you bring plenty of snacks to keep your energy levels up! Fruit is a great option or anything else that doesn't require preparation. If you're taking sandwiches with you, remember that they may go soggy if not placed in a cool bag. Always pack more than you think you'll need, as spending a day on the beach can take a lot of energy and you'll want to keep your energy up for the surfing!
Towels: One thing that you really can't go to the beach without is a towel. Everyone needs a good towel to dry off with after a surf session, when eating your snack, and or when your tired and want to lay down in the sand. We would recommend choosing a bigger towel than you would use at home for more room to lay on and also a different patterned towel so you can recognize yours between other campers.
Flip Flops: Seriously, don't forget your flip flops. There's nothing worse than having to walk across the hot sand with your bare feet and it's a real drag trying to put your socks or sneakers back on after you've spent the day soaking up the sun, sand, and water. Simply slip your flip flops on and you're done and gone. We recommend your putting your initials on the sides and or choosing a distinct design so you don't get yours mixed up with other campers.  
Sun Hat: We do provide shade for the campers under our Corky Carroll's Surf Camp tents, but we recommend you also bring a hat. Hats do wonders for protecting your head, ears, face and neck while also keeping the sun out of your eyes. Even if you're not a hat fan, just remind yourself that keeping those rays off your face will make a huge difference for the following day at surf camp.
A change of clothes: Ever get back to the car just to realize that you and your wet bathing suits and towels are about to ruin your car seats? Bringing an extra  pair of clothes will not only help you feel your most comfortable on the ride home, but it'll make your parents happy also!
Empty plastic/reusable bag: This might sound like a strange one, but they're great for keeping valuables dry and sand free.
Go to our Huntington Beach Surf Camp Photos Page https://www.surfschool.net/huntington-beach-surf-camp/huntington-beach-surf-camp-photos/
https://www.surfschool.net/wp-content/uploads/2018/03/IMG_3837.jpg
428
640
Hunter Rose
https://www.surfschool.net/wp-content/uploads/2018/03/corky-carrolls-surf-school-logo-300x156.png
Hunter Rose
2018-03-21 10:36:41
2018-12-04 14:24:16
What To Pack For A Day At Surf Camp & Beach Adventure