What to Pack for Costa Rica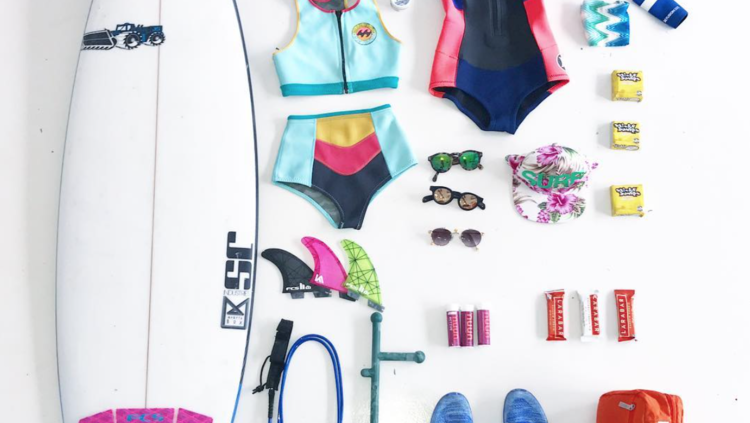 What should you pack for Costa Rica? Great question. We're glad you asked. Packing for Costa Rica (or any other trip) shouldn't be a chore. It should be exciting! Think of it as a preview of the fun to come. Though let's face it, that is easier said than done.
Deciding what to pack for a vacation can be overwhelming — especially if you're not sure what to bring. Traveling internationally only adds to the stress. The list of items is a bit different than a local weekend getaway and things can get confusing. But no worries, we've got answers to some of the most common packing list questions, with a simple breakdown on what to bring and what not to bring on your trip to Costa Rica.
Whether you've booked a stay at our all-inclusive Costa Rica surf resort in Nosara, or are just looking for some general info for upcoming travel, we've got the best packing list for your trip.
You've booked your flight.
Practiced your shakas.
Got stoked.
All that's left to do now is pack your bags!
Packing for Costa Rica
The Essential Packing List for Travelers
Do you need a passport to travel to Costa Rica? Yes! Anyone traveling to Costa Rica from outside the country needs the following documents to enter:
Current passport: Valid a minimum of 3 months after arrival date (U.S. passports must be valid a minimum of one day from the day you enter Costa Rica).
Proof of Departure (flight itinerary)
Color photocopy of your passport
Government issued photo I.D. is strongly recommended
What clothes do I need for Costa Rica?

The big question of what to wear during your vacation can lead to overpacking the wrong items or leaving out important ones. Climate and activities can be the biggest deciding factors of what to wear. Depending on what season you're traveling and what you plan to do while there, you may need to pack more or less. Keep in mind, the weather is always warm (85- 95 degrees in the afternoon and 75 degrees at night), the atmosphere is very casual and packing light is a good idea. Here are some essential clothing items to include :
Shorts, Shirts, Tank Tops, Lightweight Long Sleeve Shirts
Board Shorts / Swimsuits
Long Sleeved RashguardLight Jacket (Rainy season is May-August and November)
Ladies' Cover-up (Sarong or Sundress)

Underwear & Extra Socks (in case feet get wet)

Athletic Shoes

Sandals (it's a good idea to pack an extra pair)

Hat

Sunglasses

Optional Lightweight Pants or Surf Pants
Toiletries
Shampoo & Conditioner
Toothbrush & Toothpaste
Antiperspirant
Bodywash
Face / Makeup Remover Wipes
First Aid Kit
Prescriptions
Bug Repellent & Anti-itch Cream
Advil (muscle relief)
Vaseline (for ocean rash protection)
Aloe Vera for sunburns
Sunscreen SPF 30+ (We love Sun Bum Zinc & Headhunter!)
Electronics & Miscellaneous Items
When traveling out of the country, home can seem very far away but that doesn't mean you have to miss out on all the creature comforts. Guests can enjoy TV with cable and free wifi in our open air rancho and lounge. We also use standard US outlets so no adapters are needed. Below are some important items to pack for a more enjoyable trip and for the downtime when you're ready to retire to your private bungalow:
Cell Phone
International Cell Phone Plans
GoPro and/or Camera
Chargers for Phone and Electronics
Flashlight for Nighttime Excursions
LUCI Light in case of power outage: Check them out!!
Favorite Candy & Snacks
Books and Magazines
Cards, Small Board Games or Puzzles
Money
Cash is recommended, especially for nearby activities and same day tours
No need to change your money at the airport, Costa Rica accepts U.S. currency (make sure they are unmarked and not torn).
Small bills/$20 are best to carry around
ATM/Credit Cards are accepted in most places
The average exchange rate is 550 Colon to $1.
Activities in Nosara include; Horseback Riding, Kayaking, Zip Line tours, Fishing tours, Tennis, Mini Golf, Quad rentals/tours, yoga & massage. Average outside vendor costs $60-$150 per activity. Yoga classes vary between $10-$20. Zip line is $50 for kids & $60 for adults (+$120 roundtrip transportation). For a full list of activities beyond surfing check out a typical day at our resort.
Important Reminders
Contact your bank to inform them you will be out of the country
Contact cell phone carrier for international travel pass. Read more about International Cell Phone Plans.
Each bungalow is equipped with a small safe that can hold small items and a tablet or 13" laptop but please leave jewelry and valuables at home!
Our 2nd generation family business has hosted guests for over 20 years and if there's anything you need, our friendly staff are available to help. There is also a local Super, the equivalent to a small grocery market (like 7-Eleven), that most likely has any items you may have forgotten, such as toiletries, beverages and snacks .
Whether you're planning a family vacation, romantic getaway, or epic Costa Rica surfing trip, we combine hospitality and the perfect location to help make the most of your vacation getaway!
By: Alexis Folden
https://www.surfschool.net/wp-content/uploads/2018/03/q3-e1520279889320.png
494
500
Corky Carroll's Surf School
https://www.surfschool.net/wp-content/uploads/2019/07/corky-carrolls-surf-school-logo-header.jpg
Corky Carroll's Surf School
2018-03-04 13:30:20
2020-10-28 19:28:15
What to Pack for Costa Rica