Corky Carroll – Bio of a Surf Legend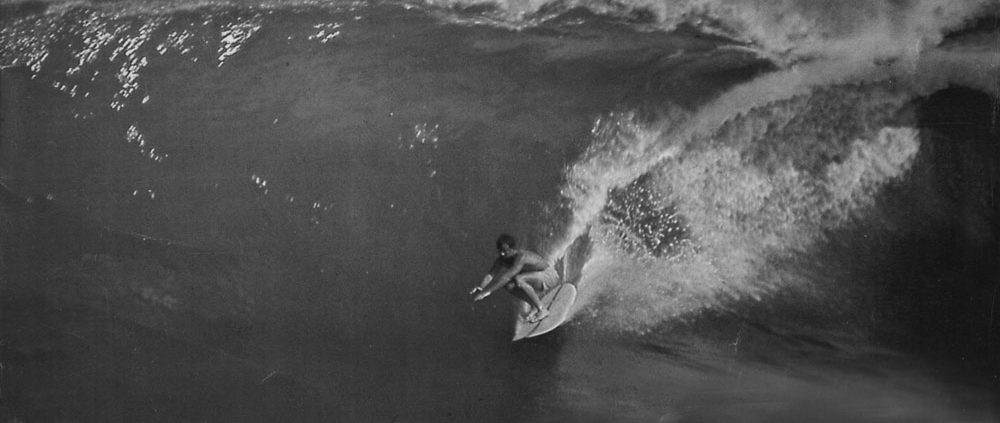 We get asked a lot of questions here at Corky Carroll's Surf School. How do you turtle roll? What kind of surfboard should I ride? Are my feet positioned correctly? Where is the bathroom? Why is it raining? Can I have a donut? The list goes on. But by far the most asked question is: Who is Corky Carroll?
Well, we're glad you asked…
Corky Carroll and Our Surf School
Our surf school is the result of one man's awesome idea and another's amazing career. It all happened in 1996 when local resident Rick Walker approached professional surf icon Corky Carroll with a business proposition: opening the first surf school in Huntington Beach.
Read How Rick Walker Came Up With His Surf School Idea and Why It's Not Named After Him
The school was named after Corky, whose prolific surfing career has made him one of the most recognizable and accomplished surfers of all-time.
Today, we still use the fundamentals and techniques Corky came up with in our lessons.
So when you're taking a surf lesson from one of our instructors, you're also learning to surf from one of the most iconic surfers of all-time.
Which we think is pretty cool.
That said, the question still stands: Who is Corky Carroll?
Corky Carroll – The First Professional Surfer
Fun Fact: Corky Carroll is considered the first professional surfer of all-time.
So it just makes sense that the first surf school in Huntington Beach be named after him. But long before he joined Rick Walker in forming our surf school, Corky was making waves dating all the way back to when he was a little grom.
Here's a brief highlight reel of the Man, the Myth, the (Surf) Legend that is Corky Carroll:
His real name is Charles Curtis Carroll. (Corky is his nickname)
He won over 100 surf competitions
He was the first person paid to surf (and put "surfer" as his profession on tax returns)
He was the first surfer to receive endorsements
He was the first surfer to have a production model shortboard
He was voted "Best Surfer in the World" in a 1968 Surfer magazine readers poll
He retired from professional surfing at the ripe old age of 24
He was inducted into the Surfing Walk of Fame. Twice. And Surfers' Hall of Fame
He is the only pro surfer with a gold record (Tan Punks on Boards)
He wrote 3 books
He starred in 13 heroic Miller Lite commercials. Like this one:
While that highlight reel is impressive, the stories behind those accolades and achievements are even better. So let's start from the beginning and find out how Corky Carroll became Corky Carroll.
Corky Carroll Learns to Surf
Corky grew up in Surfside, California. Located between Huntington Beach and Seal Beach, the Surfside Colony was an awesome place where some of the best surfers of the Golden Age of Surfing lived and surfed.
Corky learned to surf when he was 8-years-old. (The same age when groms can start at our summer surf camp. Coincidence? We think not.) His first surfboard was an 8'7″ longboard made from balsa wood. It was shaped by famous Seal Beach surfboard shaper Dick Barrymore and weighed more than kid Corky did.
From then on Corky Carroll was stoked for surfing.
Corky Carroll Learns to Shoot the Pier
One memorable story Corky tells is how he learned to 'shoot the pier' in Huntington Beach. As a young gremmie (that's what they used to call groms back in the 50s), he built a makeshift surfboard rack for his bike using a red wagon.
Consider it the original surf wagon.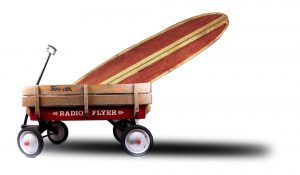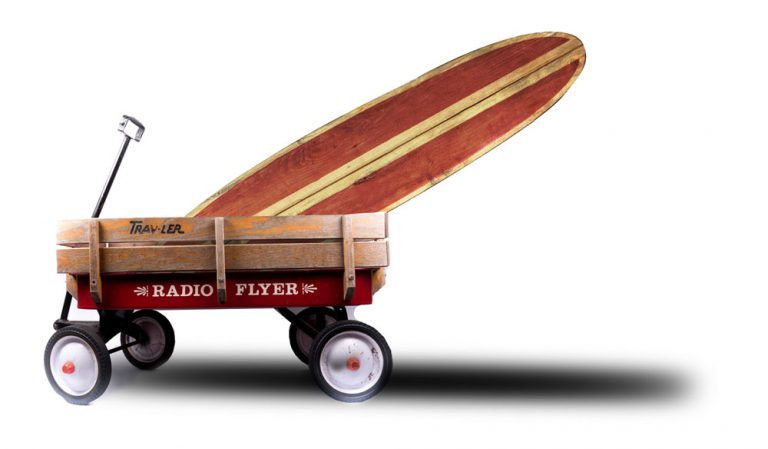 Using his awesome invention, Corky would tug his huge balsa surfboard down the PCH from Surfside all the way to HB's pier. Along the way he passed through Tin Can Beach (later renamed Bolsa Chica State Beach, and the home of our surf school. Coincidence? We think not). Paddling out into rolling 6-footers, he noticed a bunch of older surfers riding daringly through the pylons of the massive pier.
At first Corky was scared to try. You know, because death.
But then local HB surf legend Chuck Linnen paddled over and gave young Corky some sage advice on how to thread through the pier in style.
Just goes to show a surf lesson from a good instructor can go a long way.
Especially when that instructor has an awesome stache, as seen in this shot from a couple years later of Corky and his surf coach: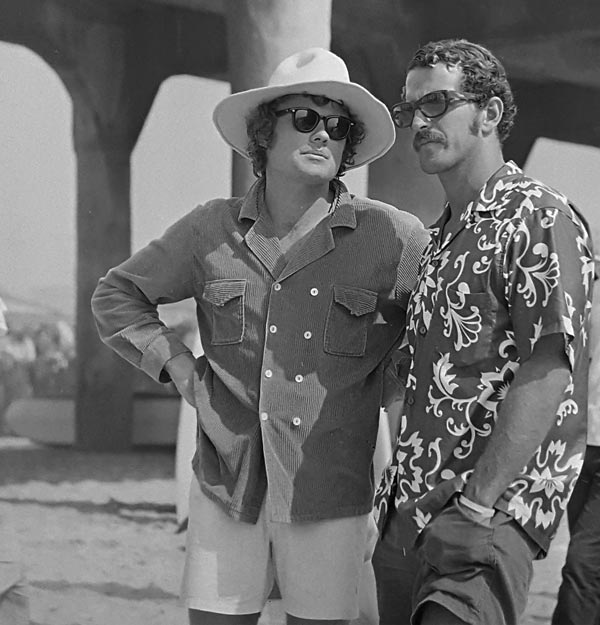 Before long Corky was shooting the pier with the best of them.
And thus began a long-lasting relationship between him and one of California's most iconic surf spots, which would one day culminate with the creation of our surf school.
But we're getting ahead of ourselves.
Corky Carroll Learns to Win
Corky Carroll started competing in surfing contests when he was 11-years-old.
He placed 3rd in the first contest he ever entered — a junior division heat at the inaugural West Coast Surfing Championships in Huntington Beach. Held in 1959, this was the first major surf contest in California, and the forbearer of today's epic weeklong U.S Open of Surfing that takes place every summer on the pier's south side.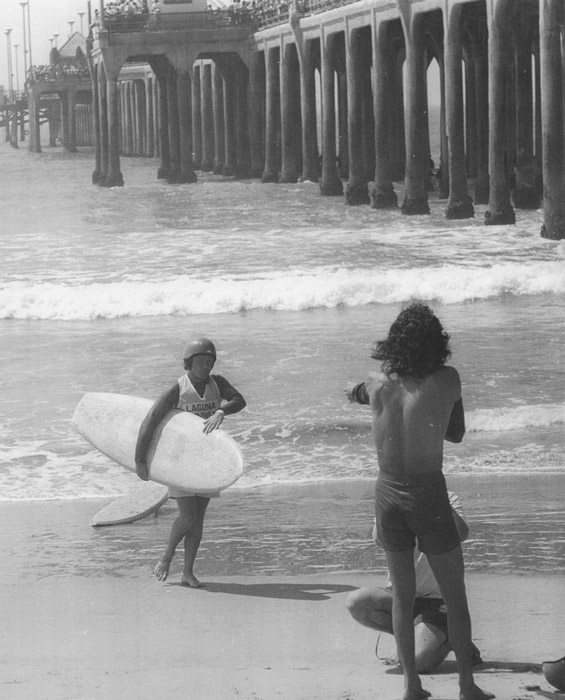 (That's right, for awhile there Huntington Beach made competitors wear helmets in contests. Everyone hated them.)
This kicked off a 13 year career as a competitive surfer. During that time Corky racked up five wins at the United States Surfboard Championships in HB (renamed from the West Coast Surfing Championships) and was named the United States Surfing Association's "best all around surfer" five consecutive times.
His first major win came in 1962 at the San Clemente Surf Capades. (Which might go down in history as the best named surf contest of all-time.) There was also three International Professional Championships, an International Big Wave Championship, a World Small Wave Championship, and, as Corky puts it, "a bunch of other less glorious sounding titles."
Below Corky (center) hoists the 1967 US Surfing Championships trophy.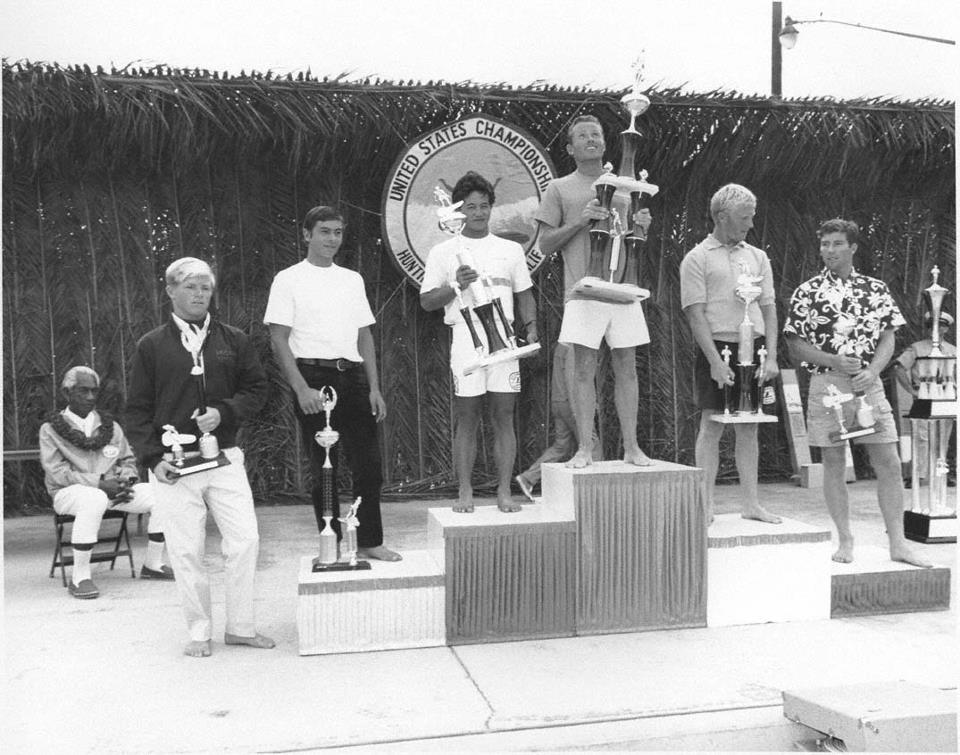 (Props to anyone who can name the rest of the surfers in this photo.)
When all was said and done, Corky would go on to win over 100 contests.
Corky Carroll Becomes the First Professional Surfer
With each mounting success, Corky's reputation grew.
Soon he caught the eye of Hobie Alter, the pioneer surfboard shaper from Dana Point who a few years earlier had opened the first Southern California surf shop. Hobie decided to sponsor Corky, paying him $80 a week to use and promote Hobie Surfboards.
With that sweet payday Corky Carroll — at the age of 16 — became the first person paid to surf and the first surfer to strike an endorsement deal.
Two years later Corky kicked things up a notch when he won a $1,500/year sponsorship with Jantzen Sportswear. In other words, he was rolling in the dough.
At least as far as surfers go.
At age 18, Corky decided to make it official and put "professional surfer" on his 1965 tax return. Sure beats accountant. (No offense accountants.)
But his professional exploits weren't limited just to riding surfboards. He was also at the forefront of developing them. In 1967, Corky Carroll's Hobie Mini Model was introduced as the first production shortboard in America. That same year, thanks to board royalties, product endorsements and a nice bonus check from Hobie for several TV appearances, Corky earned over $30,000.
Adjusted for inflation that's the equivalent of over $230,000 today.
Not too shabby for a beach bum.
Corky Carroll Becomes a Star
Not too many people have enjoyed the popularity that Corky Carroll was able to ride thanks to one day at the age 8 deciding to pick up a surfboard. For starters there were the countless ads he's appeared in, like for Ocean Spray, Coca Cola, Chrysler and Jantzen Sports.
Some of them didn't even have anything to do with surfing.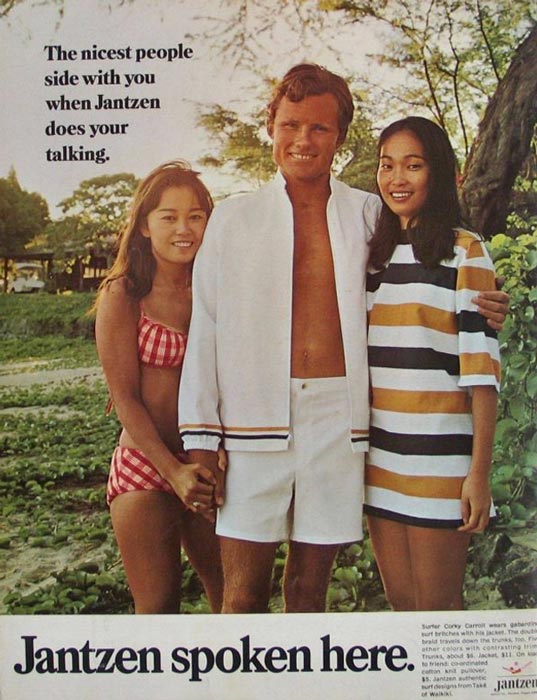 Since then he's also appeared in countless films, most of them related to surfing. These include the two most iconic surf films of all-time: Five Summer Stories and The Endless Summer. And the surf cult classing North Shore.
In 1964, as part of the promotional tour for The Endless Summer, Corky appeared on The Tonight Show to teach Johnny Carson and the rest of America how to "sidewalk surf" (aka skateboard).
He's even voiced a character on SpongeBob. It doesn't get much bigger than that.
Corky Carroll Retires from Surfing, Becomes a Musician
By 1972 the competitive surfing world was changing and Corky decided it was time to hang up his board (as a pro) and replace it with a guitar.
In fact, Corky had been playing music even longer then he'd been surfing. When he was 7 his mom made him take piano lessons (as moms often do). But tickling the ivory took a backseat to riding waves. That is until he was a teen attending Huntington Beach High School when he picked up music again, teaching himself guitar.
He continued to riff here and there whenever he had the time in between surfing contests.
On one occasion the Beach Boys even asked if he'd go on tour with them, believing it would add credibility if they had a "real surfer" in the band. Corky passed. Music was still no match for professional surfing.
Later on, as his pro surfing career was winding down, Corky started to pursue music more seriously, learning multiple instruments and performing in local bars and small concert venues around Orange County.
In 1971, just prior to his retirement, Corky released his first album entitled Laid Back.
Over the next thirty plus years music would play a huge part in Corky's life. During that time he performed both as a solo act and with his many band incarnations including Corky Carroll and the Piranha, Corky Carroll and the Coolwater Casuals, and our personal favorite, Corky Carroll and the Funk Dog Surf Band.
In 1979 his musical output reached a high point with A Surfer for President.
That album included the hit single Tan Punks on Boards, which sold 500,000. As far as we can tell this makes Corky the only past or present pro surfer to have a gold-selling record. (Scroll down to track 6 in the player above to hear this gem.)
"Riding through a guitar solo or singing is much like riding a wave on surfboard. You're climbing and dropping and tucking into little sections and it's a lot of ad-lib and expression." ~ Corky Carroll
At the turn of the millennium Corky was the house musician at Duke's restaurant in Huntington Beach. Imagine that. Stop by Duke's for a fish taco and get sung to by one of the best surfers of all-time.
Reason 10,024 to love HB.
And Corky Carroll.
Corky Carroll Stars as a Beach Bum
While moonlighting as a musician, Corky ran through a gamut of other jobs. From bartender to waiter, lounge singer, manager of a car dealership, actor, tennis pro, ski instructor, advertising director for Surfer magazine, balloon salesman — Corky made the rounds.
In the early 80s Corky started living the dream by "playing" a happy go-lucky, perpetually jobless surfer in Miller Lite beer commercials. It was part of a very successful Miller ad campaign featuring retired athletes from different sports. They were known collectively as the "Miller Lite All-Stars."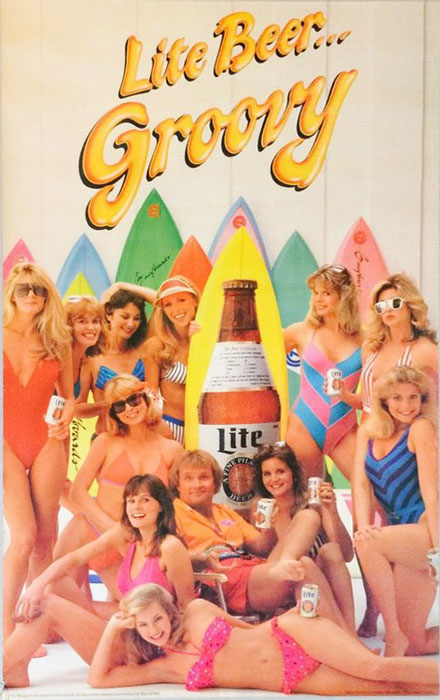 As Corky tells it, the Miller Lite All-Stars' main job was to tour the country spreading good times and doing such things as visiting ski resorts, skiing all day wearing "Miller Lite All-Stars" parkas, and going to nearby bars to hand out Miller Lite swag and buy rounds for everybody.
It's a hard life but somebody's gotta do it.
And Corky Carroll did.
Corky Carroll Helps Start Our Surf School
It all started one fateful day in 1996 at the Windansea Surf Shop in Huntington Beach.
Well actually it started a little before that when Corky appeared on a LA sports talk television show called Life in Sports. The show featured interviews with pro athletes from the past and present. It was produced by a local HB guy named Rick Walker, who for the past 12 years had been commuting back and forth from Orange County to Los Angeles and was ready for bigger and wavier things.
Namely, starting a surf school.
After meeting Corky and having the surf legend on his show, Rick saw an opportunity.
Around then Corky was splitting his time between giving tennis lessons and managing Windansea. In fact, Rick's daughter had been taking one of Corky's tennis classes. (That's Kelsey, who today helps run the show at our surf school. Coincidence? We think not.) One night Rick Walker walked into Windansea.
Rick: Hey Corky.
Corky Carroll: Hey Rick.
Rick: I see you're teaching tennis these days.
Corky Carroll: Yeah, that's right.
Rick: Why?
Corky Carroll: I really enjoy it. I'm good at it. And people pay me to do it. What's not to love?
Rick: [looks at Corky funny] I don't get it.
Corky Carroll: Maybe you didn't hear the part about people paying me.
Rick: You're a surfer. You should be teaching surfing.
Corky Carroll: [laughs] Well, if you can show me how to make a living doing that I would be happy to listen.
Rick: [smiles]
By this time there had been no shortage of offers coming Corky Carroll's way. So he took Rick's idea of starting a surf school with a grain of salt. But, having nothing to lose, Corky said, "Yeah sure, you get it together and I'm in."
Five months pass. Corky has forgotten about the whole thing. And then one day Rick shows up at the surf shop and says, "O.K., I got it all organized. We have a location, boards, permits and insurance. The Corky Carroll Surf School opens June 15th."
And it did open. On June 15th, 1996 at an uncrowded stretch of beach in Bolsa Chica State Park.
[The conversations above are paraphrased from Corky Carroll's own enjoyable recount of how he first met Rick.]
Corky Carroll spent most of that first summer training instructors and developing the surfing techniques that would become the backbone of our lessons.
Techniques which we still use to this day.
Corky Carroll Gets Immortalized
The same summer Corky partnered up with Rick Walker to start our surf school, he was also inducted into the Surfing Walk of Fame. You've probably seen it. Heck, you've probably walked your dogs over it.
The Surfing Walk of Fame is laid out on the sidewalk in front of Jack's Surfboards, at the corner of Main and PCH in Huntington Beach. It is a lineup of all the greatest surf legends, immortalized with plaques in the pavement. There you'll find Duke Kahanamoku ("the father of surfing"), George Freeth (the first person ever known to surf in HB), Bruce Brown (the director of The Endless Summer), PT Townend (the first pro surf tour world champion), and  Joyce Hoffman (the first woman to charge Pipeline), amongst many other amazing surfers and shapers.
You'll also find Corky Carroll. Twice.
On Aug 8, 1996 he was honored as the Local Hero in one of the Walk of Fame's best classes (alongside Greg Noll, Rell Sunn, Bud Browne, and Nat Young). He was then honored again in 2004 with a second plaque as a Walk of Fame Surf Champion.
Because when you're that good one plaque just isn't enough.
Right across the street in front of Huntington Surf and Sport, Corky was also inducted into the Surfers' Hall of Fame. That was in 2002 as part of the Hall of Fame's inaugural first group of inductees. It included some other people you might of heard of like Kelly Slater, Laird Hamilton, Robert August, Joel Tudor and Lisa Andersen.
Now that's a lineup!
Corky Carroll's Legacy as a Jobless Surfer
To say the least Corky Carroll has earned the right to have his name (and handprint) immortalized.
His impressive career as the first professional surfer speaks for itself. So too does his impressive career as a musician. Don't forget his equally as impressive career handing out free beer as a Miller Lite All-Star. Or helping inspire our surf school. His antics are stuff of local legend, like that time he stacked 40 surfboards atop a VW and successfully drove down HB's Main Street. Equally as legendary is his ability to talk story, proving it every week with his rad column in the Orange County Register.
Any way you look at it, he is a fun loving guy who has embodied surfing and its lifestyle to the fullest.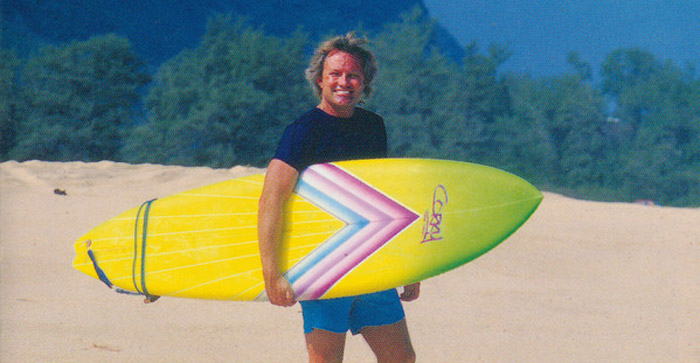 Or as Corky puts it, "Yes, I still surf all the time, and no, I still don't have a real job. Let's hope it never comes to that."
Because that is who Corky Carroll is.
https://www.surfschool.net/wp-content/uploads/2019/10/corky-carroll-surfing-big-wave.jpg
688
1000
Mark
https://www.surfschool.net/wp-content/uploads/2019/07/corky-carrolls-surf-school-logo-header.jpg
Mark
2019-11-12 17:56:20
2020-06-24 16:04:41
Corky Carroll – Bio of a Surf Legend