Who thought of Corky Carroll's Surf School? The first surf school of Huntington Beach, California.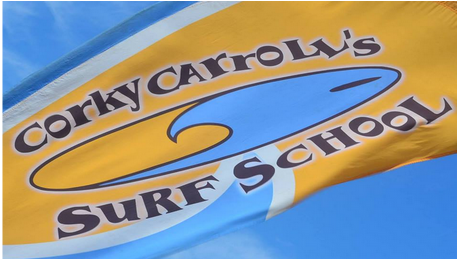 A brief history of
Corky Carroll's Surf School
Written by: Collin Walker
Everyone has a story on how they were introduced to surfing. Most of the time it involves someone who sets an impression on you, a character. Our typical family household was taken over by the surf business, here's how Corky Carroll's Surf School was created.
Rick Walker, my dad, had been commuting from Orange County to Los Angeles for the past 12 years working two jobs. The majority of his time was consumed by Life in Sports, a television show he produced. The show featured interviews with professional athletes from the past, present, and future. His goal was to grab the interest of not only the adults of the household but also the children. A sports show that families could watch together.
Life in Sports was not the success he anticipated, but the wave of change for Rick Walker, was soon to catch his attention.
I was 10 years old when I was converted to surfing. None of it was planned, it just happened. My mother's friend invited me to join her son along with his friends for a week of learning how to surf. The man who taught us how to surf was a school teacher, ironically his name was Rick too. On the last day of our surfing week he arranged a BBQ at the beach inviting the parents.
 At the BBQ, my dad, Rick Walker, mentioned to Rick how he had tried surfing as a teenager. Rick suggested that my dad take the surfboard for a ride. My dad declined. Rick insisted, but my dad showed zero interest. Ready to show off my new skills, I voiced up. " Come on dad, let's go get one"
We rode our first wave together, and it took just that one wave for my dad to get hooked.
 By Monday of the coming week he ordered a surfboard and was surfing every morning before work. It wasn't long until he couldn't help but notice that his hometown had no surf schools. San Clemente had surf programs, but no surf schools in Huntington Beach!
 In October of 1995, at the Wind n Sea surf shop on Main St. Huntington Beach, Rick Walker approached Corky Carroll with the surf school concept, I don't remember Corky's exact words but his body language said it all. His arms stretched out wide and his smile seemed to stretch even wider. He obviously agreed to what my dad was proposing to him. I didn't know it yet, but my world was about to change.
 I hadn't yet seen someone glide across the surface of the ocean like he did. He didn't even miss a wave, I thought to myself "This is why the surf school is called, Corky Carroll's and not Rick Walker's, this guy makes it look easy."
My parents Rick and Karen took a risk and adventured into a new career path. We were not a typical surfing family, we were just a family, working together. They chose to name the surf school Corky Carroll's, not only for his professional surfing accomplishments but for being a Huntington Beach surfing icon. He is responsible for the fundamentals and techniques that we are still using today. His professional surfing accomplishments include; winning over 100 surfing competitions including 4 time national surfing champion and 5 time international champion.
Just as families grow and change, so has Corky Carroll's Surf School. Rick Walker, our dad, announced his retirement at the end of this past summer. As of

November 1st 2014

 Kelsey and I are owners of Corky Carroll's Surf School, an idea started from our parents, now a dream come true for my sister and I.
Celebrate the 20th anniversary with us in Costa Rica or Huntington Beach, CA!
 Say Hello & Reach Out to Us by Dropping a Comment in Our Contact Us Box!
https://www.surfschool.net/wp-content/uploads/2014/08/corkyoptpic2-1.png
263
459
Corky Carroll's Surf School
https://www.surfschool.net/wp-content/uploads/2019/07/corky-carrolls-surf-school-logo-header.jpg
Corky Carroll's Surf School
2014-08-31 23:51:40
2018-01-10 19:24:11
Who thought of Corky Carroll's Surf School? The first surf school of Huntington Beach, California.