Posts
https://www.surfschool.net/wp-content/uploads/2018/11/ccc.png
156
300
Hunter Rose
https://www.surfschool.net/wp-content/uploads/2019/07/corky-carrolls-surf-school-logo-header.jpg
Hunter Rose
2019-01-09 19:11:45
2019-01-22 15:27:14
Huntington Beach Surf lessons
Healthy Family. Healthy Friends. Healthy you.
Healthy New Year
2019 is a fresh start. It's a fresh page in your new, favorite book. It's a tad bit cheesy, and a tad bit cliche. Yet, this is the chance of a fresh perspective. This New Year is a chance to look back, to be appreciative, and to move forward with full momentum, and kick off a Healthy New Year! 
What's next? What are your New Years Goals?
Maybe you'll strive to have new, active hobbies. Maybe you want to be outside more. Maybe you'll work on being more mindful, and take more time drawing or reading. Maybe you'll work on being more present with your family, and maybe you'll delete that, "time sucking app" off your phone. Maybe you'll practice making the best, darn, vegan tacos EVER! Or maybe you'll decide to adopt a happy, yellow-lab from your local shelter.
There's a lot to be grateful for. There's a lot to reflect on, and remember how exciting (and draining), 2018 was. There's a lot to be stoked on. There's a lot we've each learned personally/individually- And a lot we've learned as a group/business here at Corky Carroll's Surf School.
We're grateful for our community that teaches us so much. We're grateful for you. We're grateful for the chance to teach our craft, and to teach the next generation of little rippers. We're grateful to own and love this passion, that gets us out of bed each morning.
From Corky Carroll's Surf School, to you…
THANK YOU!
Thank you for letting us be a part of your world, and to encourage new and returning surfers to hop on a board. Thank you for reading this, and thank you for engaging with us on social media. Thank you, for being you. We're happy as can be, to remind our California Family what lies in our backyard. (Or to be honest, reminding our family what vacation is right at our fingertips.)
Now… Let's begin!
Let's make this year the best one yet.
We welcome you to try surfing this year. Not only will surfing brighten your day/week/month- surfing allows your body to physically and emotionally feel better. After a few times Surfing with us at Corky Carroll's Surf School– this healthy activity will give you better stamina/cardio. Surfing works-out not only your arms for paddling- but also works out your core to keep balanced, and your legs to squat and stay level on the waves. It's also a stress huge reliever, to hang/wade in the cool water, and listen to the calming/crashing sounds (and to laugh with friends). Oh… and did we mention how cool your hair will look afterwards (really gives that, fresh out of the salon, BoHo look…)?!
In 2019, make that "home-made, famous, vegan taco!" Eat it on the beach, and rent a surfboard. Or maybe, consider taking your family to our all-inclusive Costa Rica surf resort where we make learning to surf, easy (since '98!)! We teach all ages, and all skill and all athleticism levels. And we'd be happy to give you 1-on-1 lesson, or teach a group lesson, for a fun afternoon with friends. We even provide videos for feedback, and to show how much you learned that day!
Want to learn more about our programs, and what we offer? Simply cruise over, and hang with us at Bolsa Chica State Beach. Or just give us a call to say hi, and talk surf. Or call and talk yellow-lab, shelter dogs. Either way, we'd love to hear from you.
Best of wishes for 2019!
Start this off with a healthy New Year, and a new perspective.
Tell us your New Years Goals, below!
Or tell us what active hobbies you're trying in 2019!
-Hunter Rose
/
0 Comments
/
by Hunter Rose
https://www.surfschool.net/wp-content/uploads/2019/01/new-year.jpeg
686
1000
Hunter Rose
https://www.surfschool.net/wp-content/uploads/2019/07/corky-carrolls-surf-school-logo-header.jpg
Hunter Rose
2019-01-02 15:44:17
2019-12-08 19:52:56
Healthy New Year
3 Tips to Reinvent Your Surfing
Want to Reinvent your surfing? Experience the endless summer at two unique locations: Huntington Beach, California and Nosara, Costa Rica. Whether you are a seasoned surfer or new to surfing, you may have questions or doubts about equipment and/or surf coaching. Here are a few tips we've rounded up from years of experience on the water. Go to Private Surf Lessons if you want a detailed surf lesson teaching you how to do all the things that are mentioned below.
Select the proper board: Surf Lesson
A common mistake among beginners is opting for too small of a board too quickly. When learning, you'll likely experience the most luck on a longer, wider board. The reason it is easier to learn on a bigger board is that it has more buoyancy. The more buoyancy you have the more stable it is to be able to get up on your feet. As you become more confident in your surfing, you can try transitioning to a shorter board that still has some width and thickness to it (ex. a fish). With modern surfboard technology, you should be able to find a nice, stable board with no need to sacrifice performance. They make surfboards that are short but have as much volume (buoyancy)  as a long board has which will be your transition board. Foam is your friend, the more foam the more fun for learning! You can learn all these things while taking a surf lesson with us! Our Surfing Frequently Asked Questions page will help you determine your equipment you will need to ride waves with ease. Go check it out Frequently Asked Questions: Surfing
  Find your sweet spot
Every surfboard has a sweet spot, or the point on the board where there is an equal amount of weight and volume on all sides of the board. We also call this the balance point on our board. The first things Corky Carroll's Surf School does in their surf lessons is help the student find the sweet spot. In order to find this spot you need to go in the ocean and float on your board. If the nose of the board is in the water you are to far up on the board. If your nose of your board is to high above the water then you are to far back on your board. You look at your board as it is like boat, if to many people are on the left side of the boat, the boat will sink going left. So if you are to far on one side of your board then you will sink and you are not in the sweet spot. The sweet spot is important to note because it should be situated between your feet when riding a wave. Every board, surfer, and wave is unique so you may to play around to find your specific sweet spot, but this is a good rule of thumb for finding it. If you want to learn more about finding your sweet spot and need more help with learning how to surf go check out our blog Why You Need Surf Lessons
Go check out our Private Lesson Live Availability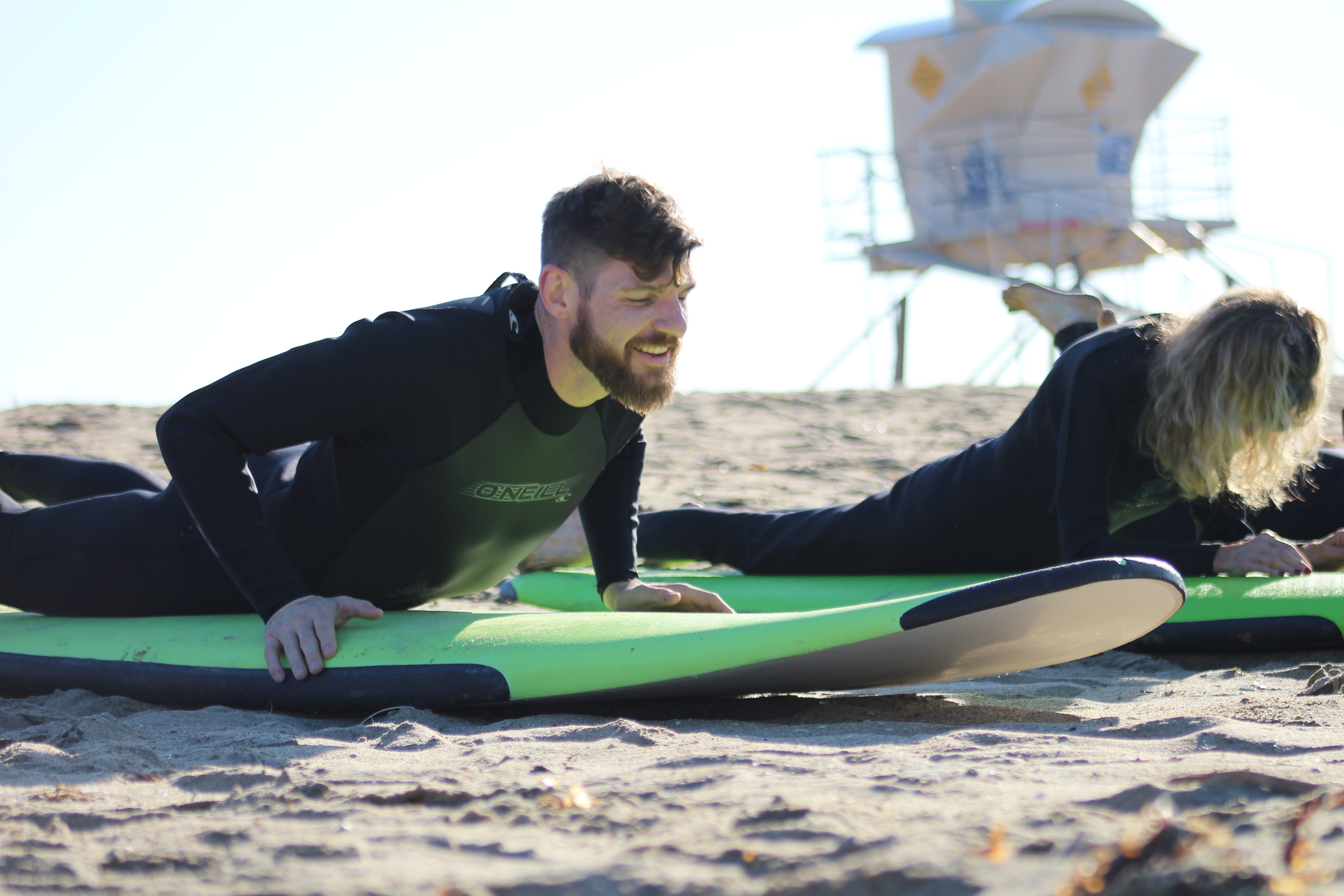 Huntington Beach Private Surf Lessons
  Know the differences between paddling techniques
When trying to reinvent your surfing you will need to learn paddling techniques. When paddling out into the lineup there are a couple things to keep in mind. Before heading out, look for channels to paddle through (finding one can save you lots of energy). You'll also want to time your paddle—it's much easier to paddle out between sets than in the middle of one. If there is shorebreak, you should not start paddling until you are past it. It will be easier to walk to the opposite side of the shorebreak before you start paddling. Lastly, paddle hard. When a wave breaks in front of you, you want to have some momentum going forward so its easier to get over. You are going to either have to go over the wave doing a half push up or you are going to have to turtle roll.
When paddling to catch a wave you'll want to find a good position on your board—if you're too far forward you'll nose dive but if you're too far back you may not catch the wave. It may take some time to master but you'll eventually get a feel for it. When you take off, keep your head down, your legs together, tighten your core, cup your hands, and build up speed. Once you think you have the wave, execute two more quick strokes before popping up. This will all be taught by our professional instructors during the surf lessons we put on. 
Choose your location between the surf school in Huntington Beach, California or our surf resort in Nosara, Costa Rica. Each has something to offer for surfers of all skills and ability levels—whether you're looking to ride a wave for the first time or expand your skill set, we're here to help. If you are a beginner and or just want to get better at surfing our Private Surf Lessons can give you the confident to get out there by yourself in no time. Go Check out Private Surf Lessons . If you need a place to practice that is safe and has perfect learning waves go check out our other blogs at Corky Carroll's Surf School Blogs
Click the link if you want more information about our Huntington Beach Surf School/Camp – Corky Carroll's Surf School
Click the link if you want to check out our Costa Rican Surf Resort Costa Rica Resort and Surf Camp
/
1 Comment
/
by Hunter Rose
https://www.surfschool.net/wp-content/uploads/2018/11/surfblog.jpg
664
1000
Hunter Rose
https://www.surfschool.net/wp-content/uploads/2019/07/corky-carrolls-surf-school-logo-header.jpg
Hunter Rose
2018-11-26 16:29:20
2018-11-30 10:39:47
Surf Lesson Tips: 3 Tips to Reinvent Your Surfing