Huntington Beach Surf Spots

Huntington Beaches Surfing Spots
Brookhurst Street: Huntington Beach 
This surf spot is on the south end of Huntington Beach, Ca. It is located right next to the Santa Ana River Mouth. The combination of drainage from the storm drains and the tidal surge from the hb marshes makes this surf spot dirty. Overall this wave is pretty good most of the time and can be excellent on the right swell mix. The wave is pretty steep and hollow and can get pretty closed out on bigger S and WNW swells. It is not a beginner wave I would recommend to anyone. The beaches are very long and if your a beginner you will need to surf the inside shorebreak because the outside is for advanced surfers. The biggest drawback is the water quality especially after even the smallest rain.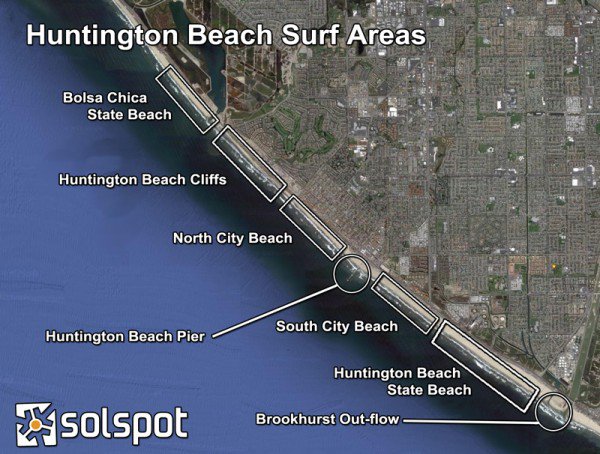 South Side and North Side  Huntington Beach Pier is one of the most famous surf spots of all time.From reality tv stars to professional surfers everywhere, HB pier has everything you would want except for a beginner surfing wave. In the summer it has huge contests, crowds, and all kinds of other nonsense, most of which happens on land. Breaking the sides into two different surf spots is necessary because both provide different waves and atmosphere. The waves are very similar in shape on both sides but you get a very different feel and attitude as you move from one side to the other. The North side is open to surfing all year round while the South Side has black ball during summer. The crowd here is localized and some surfers can get aggressive towards people learning how to surf.
Huntington Beach Cliffs– This surf spot is a soft and slow wave most of the year. You can long board on the smaller days but it gets fast enough to short board on a lower tide, particularly with a swell combo. In the winter we get NW swells the change the wave from being soft to actually holding some size and being heavy. When there is swell and when there isn't swell the cliffs have a good crowd on them. Most of the locals will surf it everyday and there are a lot of new beginner surfers trying as well. It can be localized at times during the year, but most the time you can find a spot in between others to have some fun. The walk down is more difficult compared to the surf spots to the south or north because of the rocky cliff. The dog beach is located right on the beach in front of the cliffs and can get very crowded for parking on summer days. Make sure you watch your step for dog poop!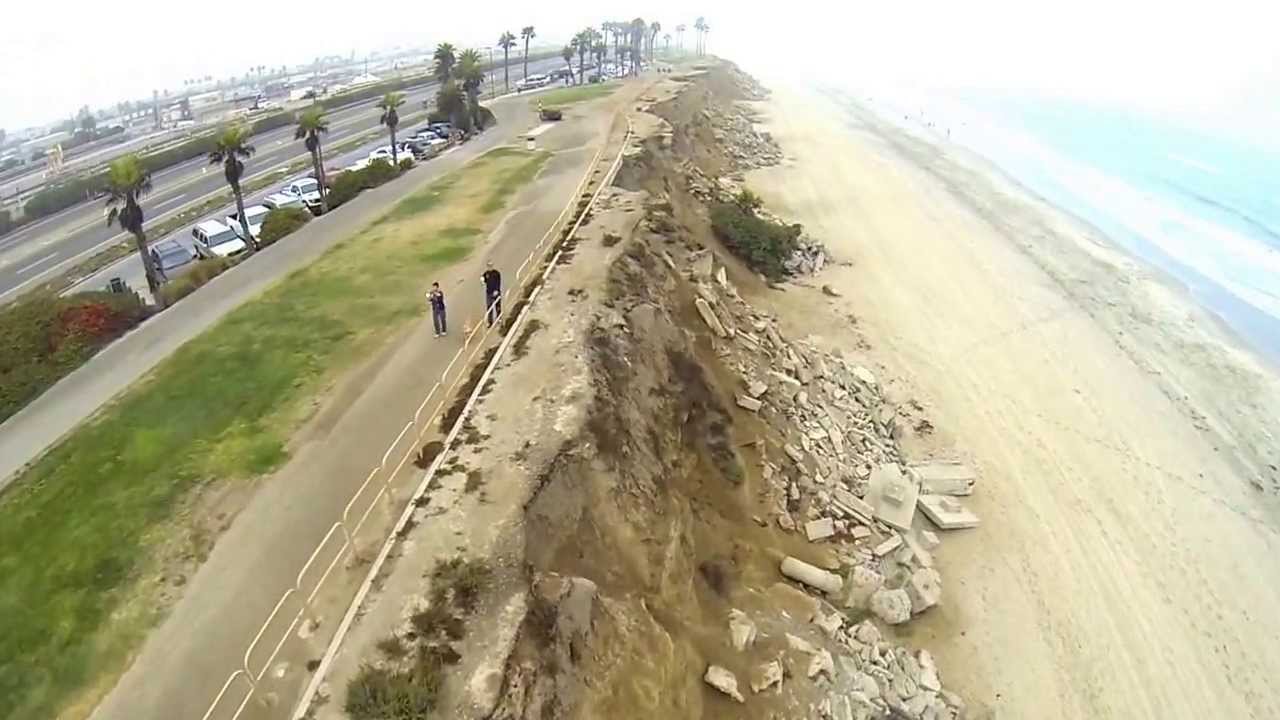 Bolsa Chica State Beach
There is no black ball at Bolsa Chica State Beach
Black ball is a yellow flag with a black circle that lifeguards put out meaning no surfing allowed. This happens because of the amount of tourists in the water. Even though there is no black ball it is still a lifeguarded beach. Lifeguards patrol the beach year round while lifeguard towers are staffed roughly from Memorial Day weekend through Labor Day weekend. At Bolsa Chica State Beach there is no black ball, so that means surfing all day!
Conditions
At Corky Carroll's Surf School the conditions are important for beginning surfers. Bolsa Chica State Beach has a gentle break, a sand bottom, and mild water temperatures year-round making for ideal beginner conditions.
A gentle break allows students to learn how to surf on the outside and inside.
The inside is closer to the shore where the waves have already broken. This area is mostly white wash, which is waves that have broken and washed out. These waves are easier to get into and best for beginners. The outside waves at Bolsa Chica State Beach break slow, allowing beginner surfers to enjoy them as well. Unlike the beaches south of Bolsa Chica State Beach, such as the Huntington Beach cliffs or Newport Beach where the waves break faster.
A sand bottom allows for gentler impact when a wipeout happens.
A wipeout is when you fall off your surfboard and as a beginner it is inevitable. With a sand bottom the ground is soft, so it is less likely to get injured and safer for all ages and ability levels learning how to surf.
Go to our why bolsa chica blog! Bolsa Chica Blog
https://www.surfschool.net/wp-content/uploads/2018/04/b1.jpg
576
1024
Hunter Rose
https://www.surfschool.net/wp-content/uploads/2019/07/corky-carrolls-surf-school-logo-header.jpg
Hunter Rose
2018-04-04 10:25:52
2018-12-05 11:08:07
Huntington Beach Surf Spots